The Reunion

Punchard High School Class of 1956
45th Reunion Celebration



Ashworth by the Sea

Hampton, NH
October 6, 7, 8, 2001


February 12, 2002
The Reunion

(my take on the Andover, MA Punchard High School class of 1956 45th graduation reunion at Ashworth by the Sea in Hampton, NH, October 5, 6, 7, 2001).

What a party! What a fine time! What a weekend!

The best class ever to graduate Punchard High School got together on a beautiful weekend in October and renewed old friendships, refreshed continuing ones and built new ones; all of which should thrive and survive another forty-five years.

I was one of those fairly disconnected from my hundred or so old mates, even though I resided in the same Greater Lawrence communities for the majority of my adult life. Like some others, I was 'busy' finding a good job, building a career, getting married, having kids, raising a family, putting on 60 pounds, taking off 60 pounds, putting a new 60 pounds on, etc., and almost never saw any of our high school friends.

Every five or ten years, I might bump into someone at a funeral service or even in the super market: "Hey, didn't you used to be 'Beaver Dwyer' back in Punchard High"? "No? Oh sorry, you look just like him". But, good intentions aside, I remained estranged from virtually everyone in the old class, much to my chagrin.

So, along came 2000 and I got a letter in the mail which asked confirmation of my identity and announcing the 'committee's intention to organize a 45th annual reunion of my class. Having not been to one of these events since 1961 (the 5 year and first reunion), I got quite excited about the promise of seeing lots of old friends after so many years.

The reunion committee deserves more credit than I can give here, but I must acknowledge them and thank them for doing such a bang up job and so I shall; but, not before I chide them for one great oversight....... they should have made the overnight stay MANDATORY! Somehow I got it into my head that the overnight was just a nice way to accommodate way-out-of-towners and out-of-staters, but that was a misread on my part. The overnight was an opportunity to spend more quality time with these people whom I had missed for such a long time, an opportunity that I failed to grasp until our party was in progress. Man, I was envious of those who stayed over and had breakfasts, lunches, coffees, etc.,. My house is only forty minutes drive down to Hampton, so why would I need to stay over? Nah, I will make the drive for both nights and that will be fine.

Anyway, to the reunion committee: A thousand thanks, nay, a million thanks for getting us together and please do it again in five years. I will try to encourage a couple of people who weren't able to make it last time to come and though it can't be much better, maybe it will be as fun; and this time I will be staying overnight if the opportunity presents.

Committee Members

Rosemary (Rapa) Hughes
Pat (Smalley) Brouillard
Thelma (Sparks) Clementi
Kathy (Sears) Cronin
Gloria (Stanley) Holbrook
Cathy (Duke) Hollenbeck
Joan Jedrey
Margaret (Campbell) Thompson
Delight Wilson

I notice that the list is alphabetical on last names, except for Rosemary, who is singled out as the notorious leader of this pack, I think. Every gang needs one.

Looking back on the whole experience, I admit to being somewhat ignorant (maybe naive would be better), as far as seeing the big picture. Maybe I just emphasize the good times, good people, good feelings and good old days, and am blind to the fact (we know this from Oprah, Maury, Sally Jesse, Rikki and countless other mind numbing daytime TV shows) that some adolesents do not have the same experiences as others and don't grow up having the same 'happy' memories of childhood as others. Any of us who contributed to 'bad' experiences or 'sad' feelings of other classmates back then should apologize for any things said or done. Come to think, maybe I was one of those kids who was 'abused' and would have not wanted to attend the reunion if I had actually known it, but I have some kind of strange psyche which doesn't sense what others think, say or do. Anyway, I, for one am sorry for any hurt put on any other classmates when we were too dumb to know better.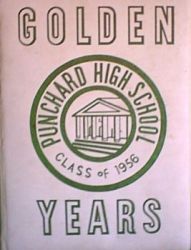 Back to my story:

Sometime in 2001, all known classmates were sent an invitation and a request to write a few words about their 'lives' since graduation. Many of us responded with brief 'biographies' about ourselves and families and much to our pleasure, these were compiled and bound into books for all of us to have. What a great idea that was. It was much fun to look at and read and share with my own family members and brothers who were a year or two ahead of us in PHS.

The reunion was coming! This I knew for at least a year. Why the hell couldn't I take off a few dozen pounds? I had enough notice; but, NO! I don't weigh 175 pounds anymore, probably never will. Of course, there was not much hope that I could grow back some of that high school hair. But in that I wasn't alone; was I, Bill?

Hmm, what to wear.......we guys are not like the women folk; calling and talking about what we might wear and what might be appropriate, what might not. So we look in the closet, close our eyes and grab something, hoping that it fits. Ah, it's only our old high school gang. Who is gonna care? This will do!

The plan for our reunion was a simple Friday night get re-acquainted night at the Ashworth by the Sea cocktail bar, try to guess who was whom, chat with as many as you could, have a drink and just have fun. Then, on Saturday night, we were having another cocktail hour (pity I don't drink), a sit down dinner/chat, followed by music and dancing until the night faded.

I drove on down to the Ashworth alone on Friday night trying to picture my old friends, knowing that they would look more like their parents, have added a few pounds, and other changes (at least for the guys). On the second night at the dinner party, everyone was given a picture 'i.d.' badge to attach; dang, we needed them for the first night. But, it was fun trying to figure out or remember who each person was. Some were easy. For me, the Ballard Vale kids were not a problem. It seemed that a third of the class were identifiable, a third were very familiar but you needed help with an initial or first name, and a third were so different or maybe not one of your close friends, you had to be told who they were and then go to the yearbook to try to confirm. People from North Andover or Methuen High wouldn't crash one of these reunion parties would they?

When I arrived at the Ashworth bar, the party had begun. There were about fifteen or twenty people gathered about tables and the bar and just standing around trying to figure things out. As the night went on, another couple dozen classmates came in, although I don't know how many attended each or both nights. I think there must have been a total of thirty or forty or so stop by the Ashworth bar that night. Basil Yancy was one who attended Friday night, but could not make the dinner. Bob Wiss, Delight Wilson, Bob Jordan, Sonny and Margaret (Campbell) Thompson, Marjorie Parker, Jim Holt, Patsy Doyle (looking like she might have been in the class of '66), Joan Hathaway, Eddie Dwyer (Beav), Doris Davis (Dick Davis' widow), Thelma Sparks Clementi, .......ahhh, I didn't take notes and may be missing a few names from the first night.

I identified Cliff Sharpe, Joan Jedrey, Pat Smalley, Prudy Pimpare, Ann Froburg, Rick Doucette, Gail Goodwin (who looked just as pretty as 45 years ago and almost as young), Leigh Henderson, and Thelma Sparks with not much difficulty. As I said, these were the Ballard Vale contingent and among my closest long time friends.

Bill Nightingale, who wasn't a 'vale guy', but sat directly in front of me for so many years in school rooms, was also easy to i.d. His head alone does the job. I can't believe that he lives in Methuen about three miles from my house in Lawrence and yet I haven't reconnected with him. This is one of a few 'faults' I plan to rectify. Bill and Kal (Tenney HS, I think), double dated with me a few times back in 1955; they are one of quite a few high school sweetheart couples from our class who married and raised families. Statistically, I bet we had a relatively high incidence of that phenomenon.

I am a teetotaler when it comes to alcohol, so the fact that I didn't drink was nothing new for me, but the gathering and schmoozing at the bar and in the lounge started up at about 7:00pm and went on at least till midnight. I was there for at least five hours and had nothing to drink (even my usual Sprite), the whole time I went from group to table, table to bar, bar to group, yakking my fool head off and getting updates from everyone I could. We lamented the passing of several of our mates, some long ago, some more recently. This was sad but inevitable in a class which graduated so long ago. "Hey, how many times have you been married?", "Hey, how many kids and grand kids do you have?", "Hey, where are you living now?", "Hey, are you retired?", "Hey, what kind of work do/did you do?", and on and on it went. It seemed like I hadn't seen these people in many years.

Where was Jack MacMillan, Ruth Gallant, Judy Goldman? Where was Sam Fuller? Is Dick Janes coming; how about Jack Davis, Bob Young, Bill Bolia? Does anyone know where Paul Decker is, Joan Arnold, Mike Barton? On and on it went. "Hey Richie, remember the time when you fell through the ice when we were skating on the Shawsheen River up near New Stream?". "How about that party down in North Reading when I picked up a bottle of Coke to take a drink and somebody had dropped a cigarette butt in it!, Yukkk!". "Does anyone remember Miss Hawksworth's homeroom?". Geez, everybody remembered Miss Hawksworth's homeroom! "Where is Frank Dyer, where's Dick Smith? Maybe they will come to the dinner".

What an idiot I am! No, you don't have to agree with me. You don't have to say, "Hear, hear!". In my semi-retirement years after doing computer engineering for 30 years, I now sell real estate in the Merrimack Valley area to earn a few bucks so that I can take a few golf trips each year. So what happens that weekend? Again, I wasn't thinking; but my boss put me on the office work schedule for both days that weekend (I usually only work one weekend day per month, so this never happens) and I didn't notice until the reunion weekend was underway. Dang! So I missed out on the 'overnight' Friday, Saturday breakfast, lunch, beachwalk game playing, chatting, etc., and put on some clean clothes and drove on back down to the Ashworth for Saturday evening festivities.

Saturday evening was the real 'reunion' celebration in a big function room where we schmoozed again, drank (not me) again, had an excellent dinner, and danced and chatted the night away. Can you believe it; Ralph Arabian, Linda Cooke, Cathy Duke, Cathy Farragher (and Ronnie), Betty Ann Fitzgerald (still a knockout), Julie Grecoe, Joan Hamilton, Dannielle Johnston (all the way from CA), Helen Kilman, the McKiniry ladies, Jane and Sandy (Jane let Hal come too), Fay Thornton, Jack Twigg, John Twinam (so glad to see John and ask him about the 'gun'), Nancy Hird, Bev Becotte, Bill Vickers, Rosemary Rapa, Elaine Freeman, Ruth Anne Frederickson, Carol Emerick, Pat Johnson, Jane Henrick, Gloria Stanley, plus just about the same gang from Friday night were there, as well as many spouses, Cliff Lawrence from '51, or '52 took a few pictures. I'm sorry if miss a few names, forgive me, I ain't no freakin' Einstein.

But hey; where is Frank Quint? Tom Andrews, Frank Dyer, Bob Arnold, the Consolis (Mary Bonanno and Bob, who live in Tennessee), Sonny Davis, Bill Gurry, Sally Harris, Ann Lefebvre, Gail Marland, Joyce Nason (out in Colorado), Tom Richardson, Agnes St. Jean, Elizabeth Sarkisian, James Solari, Nancy Sunderland, Bobby Williams, Nancy White, and a few others couldn't make our party....... hope that they can make the next one! And there are as yet a dozen or so people whose addresses or whereabouts are unknown. Man, I hope they are not on America's Most Wanted or already serving time in the slammer. Warden, let our people go! Hah! that reminds me of a famous speech delivered by, I think, Larry Lynch at an assembley at the end of one of our school years. It began, "Warden Howe, Officer Dimlich, Members of the Parole Board, and Fellow Inmates!" I thought that was the funniest thing I ever heard.

Joe Clementi (Thelma's hubby) gave us an opening 'toast', highlighting the highlights of local, national and world news events, discoveries and techno-inventions since our childhoods. Oh yeah, he also highlighted for us the well known cost of living changes in America since the 40s and 50s of the previous century; but hey, at least many of us got to see the century turn; something I used to speculate on when I was a kid. Now at 62/63 years old, I think, hell that was nothing!

We had the great added pleasure of several non-classmates attending our party with spouses, yet we knew some of them. Ron Muise, Kal Nightingale, Monica Sharpe, Hal Whitworth, a few others and some we met for the first time. It was just great all the way round. Several people brought us new friends to meet; spouses, partners, friends whom we hadn't known before.

I cannot speak to the breakfast and lunch times on Saturday nor the breakfast/brunch on Sunday, because as I said, I was 'at the office', dang it. But I hear that everyone had a good time during the daylight hours as well, even though the bar was not open some of the time. That must mean something, although maybe those drinking just had their own stashes, eh?

When we arrived at the Saturday night gathering, we got those little i.d. badges complete with 45 year old picture reprints so that we might be able to place a face or two. What a riot. It was then that I found out that I was one of those people that others would have a hard time recognizing; geez, I have not exactly aged gracefully. I look like the geezer that my kids tell me I am, only with no hair. The bad thing about the badges......I needed to wear my glasses to have a chance to read even the large type names on them. I felt a bit strange staring at the front of my female classmates while just trying to read the names. Maybe they were doing the same thing.

We also received the fantastic 'class book' with names, addresses, phone numbers and the collected biographies which were submitted by those who thought to do so. What a nice bonus treat this book is. I have referred to it many times and really enjoy reading about the lives of so many of our classmates, their accomplishments, their children and grandchildren, etc.,. Pat Smalley, who compiled the directory list on her home computer has sent me a copy, which I have formatted into an internet website and have promised to maintain as much as possible and assuming that the users keep us informed of changes. There may be many more, but we currently have about twenty folks with email addresses and those people can access the directory website anytime via their internet connection and locate almost any classmate.

Sadly, one of our 1956 class was seriously ill during the time of our gathering and she could not attend. Most of us didn't know it then, but Josephine Furnari passed away just a few weeks after our reunion. We missed her then and we will miss her in the future, along with some thirteen other mates who have died in the years since 1956. These old but gone friends and loved ones were remembered at the dinner and will continue to be remembered in future meetings. It is especially sad for me (others too), who never saw so many of these classmates after graduation, those 45 years ago. What it means to me is that it seams when I think of these departed friends, I really only remember them as teenagers with so much life ahead. Ah well, let's remember them kindly and with love. Bob Grudzinski (I shared my first pub beer in a glass with Bob) and Larry Lynch (who loved to party at the Jug), would want us to have fun and happy remembrances of them and not to dwell on the fact of their passing. Remember Bill Fisher's party? That is the way I'd want it to be.

So, I'm reading my book of friends' biographies; it's in their own words. Any of the class who didn't think to submit one, should do one as an addendum at #50. Let's all live on in good health till then.

Rick Nolin

Back to top
email me